Standard Test Method for Air Content of Hydraulic Cement Mortar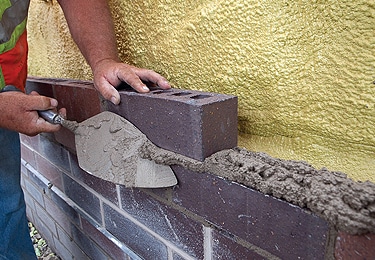 ASTM Designation: C185
Apparatus
Flow Table, Flow Mold, and Caliper, cylindrical measure, Mixer, Bowl, and Paddle, Straightedge, Weights and Weighing Devices, Glass Graduates, Tamper, Tapping Stick, Spoon
Procedure
Proportion the standard mortar using 350 g cement to 1400 g 20–30 standard sand and sufficient water to give a flow of 871⁄2 6 71⁄2 %.
Mix the mortar in accordance with Practice C305.
Carefully wipe dry the flow-table top and place the flow mold at the center of it.
Using the spoon, place a layer of mortar about 25 mm in thickness in the mold and tamp 20 times with the tamper.
Lift the mold away from the mortar 1 min after completing the mixing operation.
Immediately drop the table 10 times.
The flow is the resulting increase in average diameter of the mortar mass, as determined with the calipers, measured on at least four diameters at approximately equi-spaced intervals, expressed as a percentage of the original diameter.
When the quantity of mixing water has been found that produces a flow of 871⁄2 6
71⁄2%, immediately determine the mass per 400mL of mortar, using the mortar remaining in the mixing bowl after the flow has been determined.
Using the spoon, place the mortar gently into the 400–ml measure in three equal layers.
Tampeachlayer20timesaroundtheinnersurfaceofthemeasure.
The position of the tamper shall be that: the broad side of the tamper is parallel to the radius and is perpendicular to the inner surface of the measure.
After the measure has been filled and tamped in the above prescribed manner, tap the sides of the measure lightly with the side of the tapping stick, one each at five different points at approximately equal spacing around the outside of the measure, in order to preclude entrapment of extraneous air
Then cut the mortar off to a plane surface, flush with the top of the measure, by drawing the straightedge with a sawing motion across the top of the measure, making two passes over the entire surface, the second pass being made at right angles to the first.
Determine the mass of the measure and its contents. Subtract the mass of the container, and record the mass of the mortar in grams.
Air content, volume % = [100- W (182.7 + P)/ (2000 ± 4P)] W = mass of 400 mL of mortar, g, and P = percentage of mixing water, based on mass of cement used.