How Long to Cure Concrete and Effects of Curing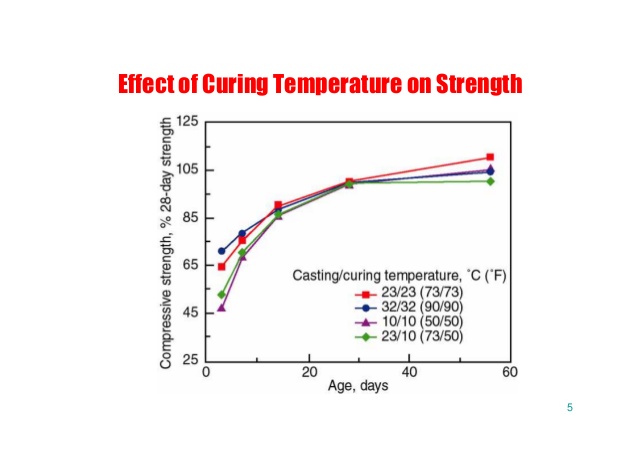 Definition of Concrete Curing
Curing is a procedure that is adopted to promote the hardening of concrete under conditions of humidity and temperature which are conducive to the progressive and proper setting of the constituent cement. Curing has a major influence on the properties of hardened concrete such as durability, strength, water-tightness, wear resistance, volume stability, and resistance to freezing and thawing.
Concrete that has been specified, batched, mixed, placed, and finished can still be a failure if improperly or inadequately cured. Curing is usually the last step in a concrete project and, unfortunately, is often neglected even by professionals.
Factors Affecting Curing of Concrete
The best curing method depends on:
Cost
Application equipment required
Materials available
Size and shape of the concrete surface
Requirements for Curing
Time - 3-7 Days
Temperature - 50-100 F
Moisture - Saturated at all times
When to Start Curing and how Long to Cure?
---
Many a time an engineer at site wonders, how early he should start curing by way of application of water. This problem arises, particularly, in case of hot weather concreting. In an arid region, concrete placed as a road slab or roof slab gets dried up in a very short time, say within 2 hours. Often questions are asked whether water can be poured over the above concrete within two hours to prevent the drying. The associated problem is, if water is applied within say two hours, whether it will interfere with the water/cement ratio and cause harmful effects. In other words, question is how early water can be applied over concrete surface so that uninterrupted and continued hydration takes place, without causing interference with the water/cement ratio.
The answer is that first of all, concrete should not be allowed to dry fast in any situation. Concrete that are liable to quick drying is required to be covered with wet gunny bag or wet hessian cloth properly squeezed, so that the water does not drip and at the same time, does not allow the concrete to dry. This condition should be maintained for 24 hours or at least till the final setting time of cement at which duration the concrete will have assumed the final volume. Even if water is poured, after this time, it is not going to interfere with the water/cement ratio.
However, the best practice is to keep the concrete under the wet gunny bag for 24 hours and then commence water curing by way of ponding or spraying. Of course, when curing compound is used immediately after bleeding water, if any, dries up, the question of when to start water curing does not arise at all. There is a wrong concept with common builders that commencement of curing should be done only on the following day after concreting. Even on the next day they make arrangements and build bunds with mud or lean mortar to retain water. This further delays the curing. Such practice is followed for concrete road construction by municipal corporations also. It is a bad practice. It is difficult to set time frame how early water curing can be started.
It depends on, prevailing temperature, humidity, wind velocity, type of cement, fineness of cement, w/c used and size of member etc. The point to observe is that, the top surface of concrete should not be allowed to dry. Enough moisture must be present to promote hydration. Regarding how long to cure, it is again difficult to set a limit. Since all the desirable properties of concrete are improved by curing, the curing period should be as long as practical. For general guidance, concrete must be cured till it attains about 70% of specified strength. At lower temperature curing period must be increased. Since the rate of hydration is influenced by cement composition and fineness, the curing period should be prolonged for concretes made with cements of slow strength gain characteristics. Pozzolanic cement or concrete admixed with pozzolanic material is required to be cured for longer duration. Mass concrete, heavy footings, large piers, abutments, should be cured for at least 2 weeks.
Effect of Curing on concrete performance
The purpose of curing is to ensure that the concrete does not dry out prematurely, but retains moisture so that it will build up strength and gain durability and resistance to wear. The concrete should be kept continuously damp for at least 7 days to achieve satisfactory curing. The easiest method is to cover the concrete with plastic sheeting immediately after finishing.
Increases Strength
Increases Water tightness
Increases Abrasion resistance
Increases Freeze-thaw resistance
Increases Volume stability
Decreases permeability