Determination of Particle Size Distribution by Sedimentation Analysis
Apparatus:
Hydrometer, sedimentation jar, balance, stopwatch.
Procedure:
A 50gm soil sample is used which is passed through sieve#200.
The soil sample is mixed with distilled water in a beaker to form a smooth thin paste.
To have proper dispersion of soil, 8gm of sodium hexameta phosphate is added to the solution per 50gm of soil sample.
The solution is passed in sedimentation jar. Then it is shaken vigorously while kept vertical.
The stopwatch is started and the hydrometer is slowly inserted in the jar and readings are taken at 2, 3 and 10 minutes interval.
The diameter of grains and the %age passing is calculated by using formulas and plotting a curve
Precautions:
The soil suspension is opaque, so take the readings corresponding to the upper level of meniscus.
The time interval between readings should be such that the hydrometer is stable at the time of next reading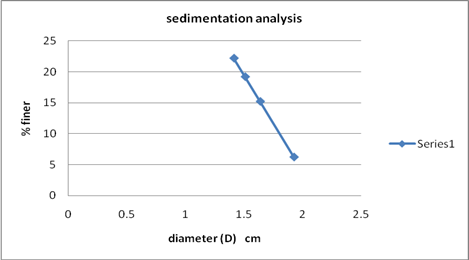 Observations & Calculations:
Time(min)
Hydrometer reading, Rh and the neck of the bulb(H) (cm)
Effective depth(He)
(Cm)
Diameter
D
(cm)
% finer
0
60
0
6.2
1.9273
02
51
09
15.2
1.6382
05
47
13
19.2
1.5097
15
44
16
22.2
1.4133
Let us know in the comments what you think about the concepts in this article!