List of Drawings Required for Building Construction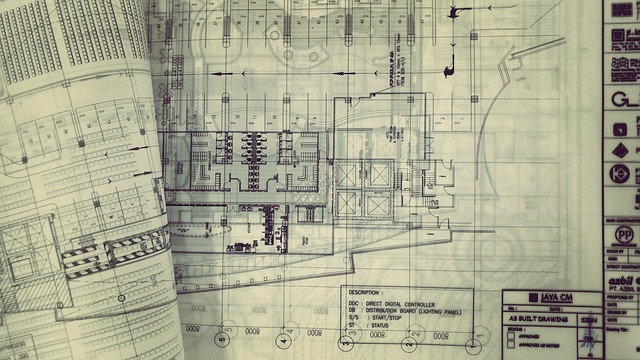 For any construction project (in this case buildings), construction documents, drawings, sketches and plans are needed for proper execution of the project. There can be plenty of different documents that make up your set. Different clients and buildings have different requirements. Even the scope of the budget for the project can change the drawing requirements of the project. However, certain conventions have become widely accepted. Following are the types of Drawings in a Typical Set of Construction Documents:
Architectural Drawings
Electrical Drawings
Plumbing Drawings
Structural Drawings
Fire Fighting Drawings
HVAC Drawings
An architectural drawing is a technical drawing of a building (or building project) that is used by architects to develop a design idea into a coherent proposal, to communicate ideas and concepts, to convince clients of the merits of a design, to enable a building contractor to construct it, as a record of the completed work, and to make a record of a building that already exists.
The following are typical components found in a full set of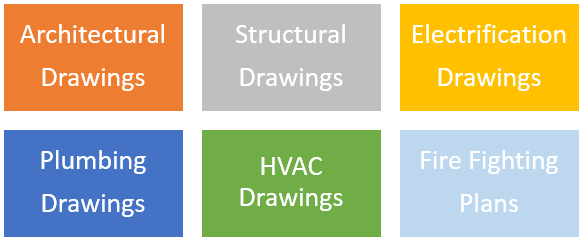 Architectural Construction Drawings:
Setting Out Plan
Floor Plans
Elevation Drawings
Section Drawings
Working Drawings
Opening Schedules
Rood Drainage Plan
Flooring Plan
Furniture Plan
Typical Details
These drawings shows the location of electrical equipment and their layout in the building.
Electrical Legend
Floor Lighting Plan
Floor Power Plan
Single Line Diagram
Fire Alarm Layout
Floor Sound System and CCTV Camera
Equivalency Chart
Lightening Protection Earthing Details
Legend and General Notes
Sewerage and Rainwater Layout Plan
Manhole Schedule
Plumbing Construction Details
Water Supply Layout
These drawings show the support system of the building like how the building is standing, what are its structural components, what is the strength of the building and how beams, columns, stairs, slabs etc. are connected and thus like.
General Notes
Typical sections
Foundation excavation plan
Footing sections
Ground floor column plan
Column sections
Ground floor plinth beams plan
Plinth beams sections
Ground floor beam plan
Beam sections
Ground floor slab bottom rebar detail
Ground floor slab top rebar detail
Ground floor slab section
Overhead water tank design
5. Fire Fighting Drawings
Legend and Notes
Fire Fighting Layout Plan (For Each Floor)
6. HVAC Drawings
Legend and General Notes
AC Layout Plan (for each Floor)
Equipment Schedule and Installation Detail